Kuroda was born in Kagoshima City. He moved to Tokyo and became the heir by adoption of his uncle who was a dignitary of the Meiji government. In 1884, he went to Paris to study law. The following year, he got to know Raphaël Collin, a French painter, and became interested in a painting. Kuroda began to learn painting under Collin while studying law, and in 1887 he dropped out of law school to devote himself to painting. He painted many masterpieces of Western-style Japanese painting, especially in Grez-sur-Loing. In 1893, he came back to Japan and introduced a fresh style of painting thet included bright plein air expression. And Kuroda made an effort to develop academism in Japan. When the new Western Painting Section of the Tokyo School of Fine Arts was established in 1896, he became a professor at the school. Afterwards, he quickly achieved the leading role in Western-style painting in Japan, and was called "the father of modern painting"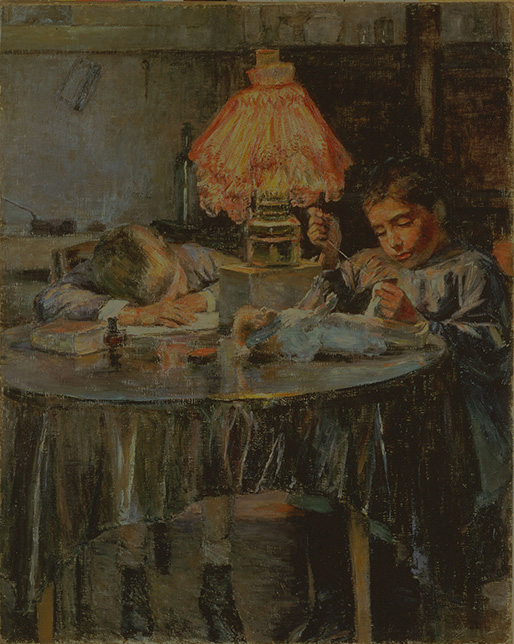 This work depicts the children of the Billaut family, whose house in Grez he used to lodge in. It is a casual, everyday scene where the girl is diligently mending a doll's clothes while the boy dozes, perhaps having tired himself with reading, in a warm atmosphere suffused with the lamplight. A motivated work that represents the first time Kuroda tried his hand at a night scene in oils.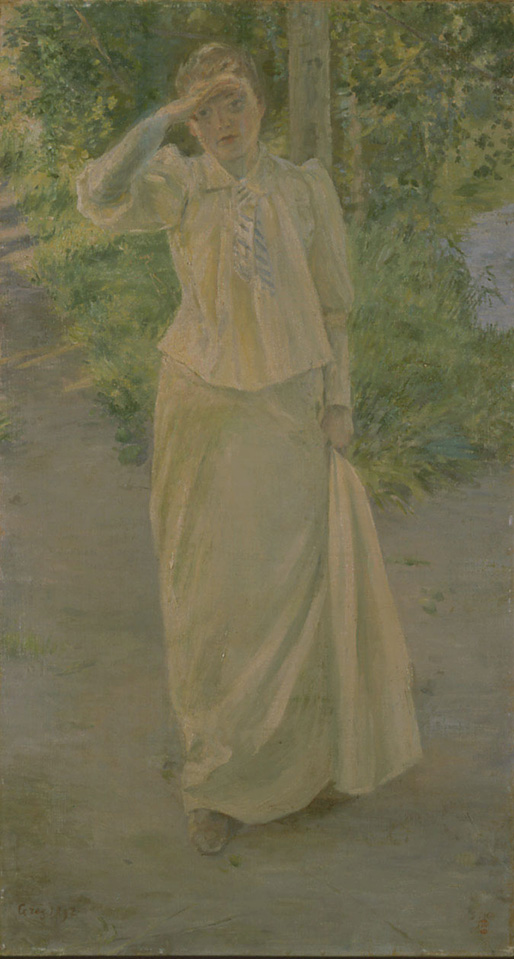 One of the works the artist painted in Grez, France. It views the woman slightly from above, but looks down with a more elevated gaze at the cluster of trees and shrubs behind her, the path, and the pond to the right. There is no sky in the picture, but shift is made to represent sunlight through the model's pose shading her eyes with her hand, the tones of the white dress, and the mass of leaves in the background.